Member Spotlight
Camp STEM Club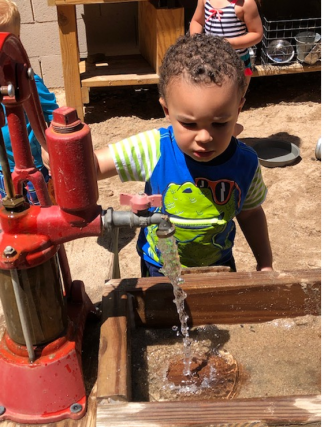 At Camp STEM Club in Gilbert, AZ, small groups of 5-7 children learn outdoors surrounded by 25 ft tall Sissoo trees, raised garden beds, and lush green grass. Though Camp STEM is a small, home-based program located in the desert, once you step into the backyard oasis, you'll feel as if you left the desert behind. The program prides itself on teaching children in a natural environment while preparing them for kindergarten, practicing coping skills, and encouraging curiosity. 
The school's director, Carolyn Mowery, notes that though it can sometimes be a challenge getting families on board with an outdoor learning model, soon after their child is enrolled, parents begin to see that their child is learning and having fun at the same time. We spoke with Carolyn to learn more. 
As the name suggests, STEM is a big part of your curriculum. Can you tell us what that looks like in practice?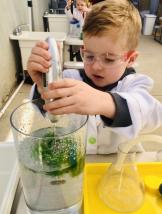 STEM and nature organically co-exist and pairing the two comes naturally. We are surrounded by science with endless opportunities to connect STEM and nature. When exploring outdoors, we learn about plants, discuss how leaves "breathe," and talk about ways we can preserve our forests. To learn about animals, we release ladybugs and even have a couple of resident hummingbirds. Children love to learn about our hummingbirds, which fly remarkably close to our students. Watching a child's excitement the first time they experience this is priceless. 
On any given day, you'll find teachers and students enjoying songs and stories during circle time, conducting science experiments with leaves and water, and exploring the properties of sand through sensory play. Young learners even wear lab coats during some experiments, making it extra "official."
Along with STEM concepts, you identify "teaching coping skills" as a central part of your mission. Can you share with us more about why you think that is so important for young children today? What role does the outdoors play in helping achieve that goal? 
Very young children can learn coping skills that can last a lifetime. My hope is by offering healthy ways of coping, children can navigate through rough times. Sadly, depression and suicide rates are up around the country and some experts feel it may be due to a trend of young children being overly sheltered, lacking experiences that teach them how to handle the small adversities of childhood. Our mission is to empower young children, not to shelter them from every adversity that inevitably comes their way. In our program, we do this by introducing them to nature and allowing them to find what calms them and gives them the ability and stamina to persevere.
Often when people imagine nature preschools, they picture lush, wooded forests with acres of land to explore, but there are programs all over the country that follow a nature-based model and do not fit that description, including yours! Your program is a small, home-based program located in a very warm climate. Tell us what a nature-based learning model looks like in your setting. 
Learning can happen anywhere and everywhere, and yes, even in the heat of Arizona. Our weather is beautiful here about eight months of the year. In warm temperatures, shade from the trees, water play, and misters help us stay cool. As a morning program, we benefit from the cooler temperatures and are able to spend time outdoors even in the hot summer months. In inclement weather, we retreat to our cool air-conditioned cabins for some indoor learning. While indoors, we learn with pinecones and acorns, and drive wooden cars through small tree tunnels. We continuously try to connect children to the outdoors even when we have to be inside. 

Creating and maintaining our green spaces is a labor of love, but this is all part of sharing our love of nature so that future generations will make that connection with the natural world and experience something unique and special.
Our raised garden beds allow children to learn about planting and growing their own food. A man-made creek provides an opportunity to fish and play in the water. Seasonally, as the leaves fall from the trees, children watch how gently they float downstream. We encourage children to be creative and investigate what intrigues them. If a child notices a cicada on the tree, our teaching methods are fluid, allowing us to pivot and follow the child's interest. This builds self-esteem, fostering the idea that every question deserves exploration. Children are delighted when you are interested in what appeals to them. When children are acknowledged and can direct a lesson, they feel their curiosity matters and it does.