Bright Ideas
Add Your Voice to the Conversation in Ottawa
February 25, 2014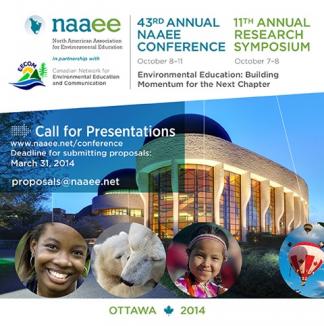 Since 1972, the North American Association for Environmental Education (NAAEE) conference has convened top educators, government officials, researchers, nonprofit and community groups, environmental experts, and corporations. With the shared mission of advancing environmental education throughout society, attendees discuss how environmental education can achieve environmental goals, as well as be a conduit to STEM education, a springboard for civic engagement, and a tool for current and future generations. This year's 43rd annual conference will be held in Ottawa, Ontario from October 8th – 11th, 2014. 
Call for Proposals
The 2014 conference theme is Environmental Education: Building Momentum for the Next Chapter, and NAAEE is now seeking dynamic and engaging proposals for both the conference and the research symposium. Conference strands include: 
Connecting People to Nature
Conservation Education and Innovation
Creating Sustainable Communities
Greening K-12 and Higher Education

Leadership and Professional Development

Using Technology to Enhance EE
There will be a wide variety of session formats, including workshops, field trips, traditional presentations, roundtable discussions, and poster presentations. For more information about the strands, session formats, and how to submit a proposal, visit the NAAEE conference website
here
. The deadline for submissions is March 31, 2014.
Early Childhood Environmental Education at the Conference
Conference sessions will touch on a variety of topics, but an overarching theme will be connecting children to nature and there will be plenty of sessions dedicated to early childhood environmental education! At last year's conference, Natural Start held an early childhood educators gathering to connect educators in the field, and opened up opportunities to get involved with Natural Start. Even more exciting was the "Nature Play Yards for Young Children" field trip, which took a group of educators on a tour of nature preschools around the Baltimore area. If you have an idea for an interesting session, or you're working on research related to early childhood, make sure to submit a proposal!
Get ready for Ottawa!
In order to build excitement for the conference, NAAEE has launched a social media campaign called "36 Weeks to Ottawa!" Each week, check out the NAAEE
Facebook
and
Twitter
sites for interesting facts about Ottawa and important deadlines leading up to the conference. In the meantime, here are some fun things to look forward to in Ottawa:
The Ottawa Convention Centre is LEED Silver certified, and was built using materials salvaged from the demolition of existing buildings and wood reclaimed from logs that had sunk to the bottom of the Ottawa River during the logging era. The technology used to create the undulating wall of windows did not even exist a few years ago! Each of the over 1,000 panes of glass is a unique size and shape.
Ottawa was recently ranked #6 on the list of cities with the cleanest air worldwide.
In 2013, Ottawa ranked #1 among global cities in creative economy measuring talent, technology, tolerance, and quality of place.
Canada's capital region is a cycling enthusiast's dream destination, with over 180 miles of recreational pathways linking natural areas, parks, gardens and national sites. 
There are over 1,000 farms within the city limits of Ottawa! You can collect Savour Ottawa trading cards for each farm that list the products and where you can buy them!
We hope to see you in Ottawa!
Tags: