Bright Ideas
Advocating for Nature-Based Early Care and Education
April 26, 2019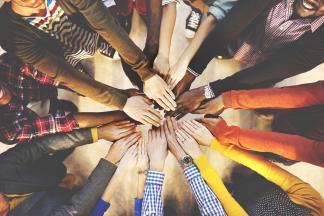 At Natural Start Alliance, we believe in great beginnings. We know that hands-on experiences in nature help build stronger, smarter, and happier children. In order to ensure that all children have opportunities to experience the wonders and joys of nature, we need strong voices advocating for high-quality nature-based early learning and care. 
We've gathered several advocacy tools and resources to help you get started:
Do you want to become an advocate for young children? Natural Start's Christy Merrick breaks down the definition of advocacy and shares three key lessons she's learned about advocacy to help you harness the power of your inner advocate.
Advocacy doesn't need to look one way. There are many opportunities for fostering public support for nature-based early learning.
Stay positive and plan to play the long game. Advocacy takes time.
No one does this work alone. You're going to need allies!
This tool is designed to help you become a better and more confident advocate for environmental education (EE) and to bring more support and funding to the field. For EE to reach its full potential, advocacy at all levels of government—local school boards, state legislatures, state and federal agencies, and federal Congressional and Senatorial outreach—is crucial, and this accessible guide breaks down the process step by step.
How do we bring joyful moments of wonder not only to nature centers, nature preschools, and nature playgrounds, but also to childcare centers, museums, kindergartens, summer camps, and other places where children play and learn every day? Emilian Geczi offers examples of empowering messages and collaborative initiatives that enable environmental educators to become agents of change in the community at large.

Resource: Washington Outdoor Preschool Pilot Standards
In spring 2017, Washington launched a pilot effort to license outdoor early learning and childcare programs. Among other outcomes, this will enable outdoor early learning programs in the state to expand from half-day to full-day programs and take advantage of state-funded initiatives that help families pay for childcare costs.
Outdoor interactions with nature in early childhood centers are proven to foster children's healthy growth and development. These tips from the National Wildlife Federation will help you to advocate for licensing regulations that support the installation of outdoor learning environments in your state.
Ready to take action? NAEYC has created a suite of resources to build up your advocacy knowledge and skills, helping you promote quality early childhood education for all children. Though not specifically focused on nature-based early learning, these tools can be adapted to fit your needs.
Every year at our annual Natural Start Conference, we promote advocacy and access through our "Advocacy" track. Connect in person and attend workshops led by nature-based early learning professionals who are putting advocacy at the forefront of their work.