Bright Ideas
Can This Industrial Designer Get Children Back Outside?
May 15, 2014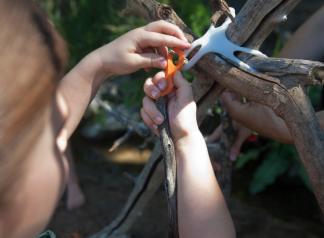 As an inductee to the National Toy Hall of Fame, the stick doesn't need much improving as a classic toy. For as long as there have been children and sticks, sticks have served as a versatile toy in outdoor play. But connecting sticks takes a bit of ingenuity. 
Enter Christina Kazakia, a design student with a mission. As she explains, "I designed these flexible silicone connectors as part of my graduate thesis in Industrial Design at the Rhode Island School of Design. My goal was to create prompts to engage children with their surrounding natural environment." Called Stick-lets™, these connectors help small children build big structures like forts, teepees, lean-tos, or other creations. 
To take her invention to the next level, Kazakia has launched a kickstarter campaign to raise funds to increase her production. Check out the video below to see if it's a cause you think is worth supporting, or a product you might like to add to your outdoor exploration toolkit. 
Tags: