Bright Ideas
Environmental Education's Largest Annual Gathering Is Coming Soon!
August 27, 2014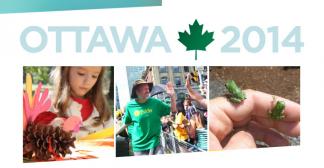 The longest-running and largest gathering of environmental educators—the annual conference of the North American Association for Environmental Education (NAAEE)—is just around the corner, and the deadline for early bird registration is Friday, August 29th. Don't miss this opportunity to connect with environmental educators from around the globe as we engage in discussions, hear provocative speakers, consider new trends and research, learn the history of some of Canada's indigenous cultures, and make new friends and colleagues for life.
Engaging Speakers
Our participants have told us that a highlight of past conferences has been our engaging and provocative speakers and this year will be no exception. Here's a brief overview of our line-up of presenters in Ottawa:
Ira Flatow – An award-winning science correspondent and TV journalist, Ira is the host of the Science Friday radio show. He has also appeared on numerous television shows and in several publications. Ira's aim is "to make science and technology a topic for discussion around the dinner table."
 
Drew Lanham – As a published essayist and poet, Drew's professional passion and personal missions converge to define environmental sustainability and conservation in new ways. He is also a wildlife biologist and faculty member at Clemson University, where he has been recognized as a Master Teacher and Distinguished Alumni Professor.
 
David Jayo – David is Senior Advisor to the Secretary of the Interior and is responsible for designing and implementing the youth initiative for the Department. David previously worked at REI and United Way, where he was committed to community engagement and corporate philanthropy.
 
Julie Scardina – Julie serves as the Zoological Corporate Curator, Director of Animal Ambassador Programs and Training, and Animal Ambassador for SeaWorld, Busch Gardens, and Discovery Cove. Julie is an author, TV guest, and mentor, and is dedicated to working to solve the world's most pressing environmental issues.
A Focus on Early Childhood
Connecting people to nature—including very young people—is a key theme of the NAAEE conference, and represents one of the main strands of the conference sessions. Also this year, David Sobel and Marlene Powers of Forest School Canada will be presenting a day-long workshop on the place, play, and inquiry based education opportunities offered in forest and nature preschools. Our very own Natural Start Alliance will also be active at the conference, hosting a networking session for early childhood educators, providing updates on the early childhood environmental education movement, and leading a discussion on research needs in the field.
Symposia, Workshops, Field Trips, and More
NAAEE's Research Symposium is on Tuesday and Wednesday—a great opportunity to learn more about current research taking place in environmental education. You'll also have a chance to attend other symposia throughout the conference on topics ranging from how environmental education can help promote the Next Generation Science Standards to what's happening internationally with environmental education to how we can evaluate impact, and much more.
On Friday evening, we're having a special event at the incredible Museum of History, where you'll have a chance to hear from our Canadian colleagues about environment, education, and indigenous cultures.
Overall, you'll have a choice of hundreds of bright spots, presentations, and poster sessions, as well as a chance to visit with our exhibitors to learn more about their programs and offerings. And this year, we will have our first conference app that will allow you to access the conference program (and more) via your computer or smart phone. Download the registration packet for all the details. We'll see you in Ottawa!
Tags: