Bright Ideas
Hiring Nature Preschool Teachers: Insights from the Field
March 29, 2019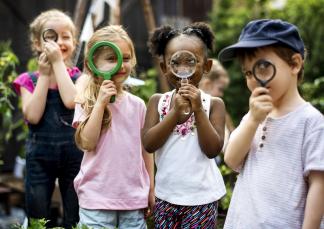 For many nature-based preschool programs, the arrival of the spring and summer seasons doesn't just mean shedding layers of clothing and trading snowsuits for shorts and t-shirts; it also means planning for the start of a new school year in the fall.  For a variety of reasons, this planning process can often include hiring new teachers.
As a follow up to our previous article, Finding Great Nature Preschool Teachers: What to Look For During the Interview, we asked several nature preschool directors to share their insights on hiring nature preschool candidates.
Thank you to the following directors who responded to our inquiry:
Madison Powell, Nature Preschool Director at Chippewa Nature Center
Megan Gessler, Early Childhood Education Coordinator at Morton Arboretum & Little Trees Preschool Teacher & Director
Amanda McMickle, Director of San Antonio Zoo School & Jennifer Stuartis, Assistant Director at San Antonio Zoo School
Kaitlin Erpestad, Preschool Director at Hartley Nature Center
What characteristics do you look for in your teachers and how do you identify these characteristics in potential candidates?
Common key characteristics preschool directors look for in potential candidates are flexibility, approachability, knowledge and experience with environmental education and/or early childhood education, and demonstrating that they value outdoor learning.
"I hire with my teaching teams in mind. Ideally, each teaching team would have one teacher with experience working with young children and one teacher with environmental education experience. If I know one teacher is really strong in environmental education, for example, I may then choose to hire a candidate who has many years of early childhood experience and a love of nature, but who has very little environmental education experience, since I know the other teacher will be able to offer the nature knowledge." – Kaitlin
What are some questions you like to ask in the interview?
"One type of question we like to ask is, 'If you had planned a day centered around exploring sunshine and it was raining outside, what would you do?' This tells you whether or not the person is flexible, can improvise and go with the flow." - Megan

"'What role does preschool have in the community?' Chippewa Nature Center is deeply rooted in our community and we strive to hire teachers who will uphold our beliefs and represent us in the high-quality light that our community has come to expect." - Madison

"You see a small group of students gathered on the ground around a frog. What do you do?" "How do you connect with nature?" "If you were a teacher at this school, what would be your overarching goal for your students?" – Amanda and Jennifer

What does the hiring process look like for your program?
Beyond the standard resume screening, phone interview, and in person interviews, these programs have been creative in adding a few additional components to their hiring process, from campus tours to involving parents in evaluating prospective teachers. We asked them to share what they each do to ensure candidates will be a good fit.
Madison explained that, at Chippewa Nature Center, applicants have the opportunity to meet and interact with several staff members, to observe a preschool camp in action, and to take a tour of the preschool classroom and outdoor play area.
At the San Antonio Zoo School, Amanda and Jennifer utilize a tour of campus during the second interview as an opportunity to ask spontaneous questions while visiting the physical spaces. For example, they may ask, "Share with us how you would transition them into the classroom," or, "How could you take this activity outside?"
Megan asks candidates to prepare a simple activity for the interview. "We can easily assess what type of teacher they are by the activity they choose."
At Hartley Nature Center, candidates that make it to the final round are invited into the classroom. Then, they are asked to read a story during circle time and spend time with the preschoolers outside. One or two parents sit on the interview committee, and they observe candidates during the classroom portion of the interview. Kaitlin believes that involving parents is an important component to the interview process, stating, "so much of what a preschool teacher does is about building relationships with the children's families." Parents can provide valuable insight into the candidate.
"During the last round of hiring, a parent on the interview committee was present during the indoor portion of the candidate's visit. After, the parent came up to me and gushed about the candidate. She said, '[the candidate] introduced herself to me right away and asked me about my child. After the class she shared a story with me about what my child did that day.' That series of interactions spoke very highly of the teacher candidate, who was eventually hired." - Kaitlyn
Conclusion
No matter which steps you include in the hiring process or what questions you ask in the interview, it's important to hire staff that share your program's mission and vision.  If you have additional insight to share, we'd love to have you join the conversation at https://naaee.org/eepro/groups/early-childhood-ee/discussions/hiring-nature-preschool-teachers. 
And remember, you can share your job postings on the North American Association for Environmental Education (NAAEE) website, https://naaee.org/eepro/jobs. We include postings specific to early childhood in the monthly Natural Start newsletter.
Happy hiring!
About the Author
Anna Dutke is Nature Preschool Teacher and Nature Preschool Program Developer at Prior Lake Savage Area Schools (MN).