Bright Ideas
Nature-Based Preschool Conference Brings Field Together
August 29, 2014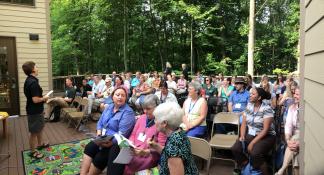 For only the second time ever, a Nature-Based Preschool Conference designed specifically for educators and administrators of nature preschools was held this month in Kalamazoo, MI, in conjunction with the Association of Nature Center Administrators (ANCA) annual summit.
The gathering was first hosted at Chippewa Nature Center's nature-based preschool in 2012. "It was so exciting to have this group of nature-based preschool folks back together," said Rachel Larimore, Director of Chippewa Nature Center's nature preschool and the conference's founder. "There's no question nature-based preschool teachers and administrators have unique professional development needs, and this conference is helping to meet those needs. I can't wait for the next one!"
Larimore and an advisory team of leaders in nature-based education came together to bring the conference back in 2014. The Natural Start Alliance provided funding to subsidize registration costs for educators.
In all, 65 educators and administrators from 19 states, 2 Canadian provinces, and the District of Columbia attended the gathering, where they networked, shared what's working in their schools, and brainstormed ways to tackle challenges. The conference included peer-reviewed sessions, facilitated discussions, and tours of both Kalamazoo Nature Center's Nature's Way Preschool and the nearby Outdoor Discovery Center's Little Hawks Preschool.
Participants discussed everything from challenges to working in inclement weather, to innovative ways to document and assess learning in outdoor learning environments, to addressing policy challenges in the field. The conference also included a panel discussion on innovative approaches to nature preschools, highlighting in particular nature centers who have partnered with local school districts and Head Start centers to offer communities new nature-based options in preschool.
A benefit to holding the conference in conjunction with the ANCA Summit was that nature center administrators could attend both gatherings.  "Combining the two groups really was a natural fit," explains Jenn Wright, Vice President for Education at the Kalamazoo Nature Center and a co-chair of the ANCA Summit. "Many nature preschools are part of nature centers so there is already cross-pollination happening. In addition, we have seen an increased interest from centers who are intrigued about the option of starting a school. By combining the two groups, we were able to serve both audiences through this inclusive opportunity. It really was a win-win!"
Stay tuned for more from the Natural Start Alliance on this gathering, nature preschools, and plans for the next Nature-Based Preschool Conference.