Bright Ideas
Nature-Based Preschool National Conference Dates Announced
November 24, 2014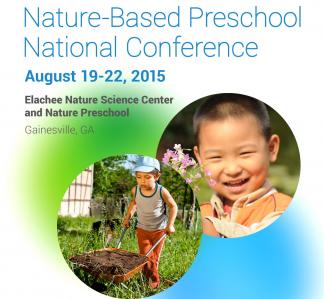 Are you an educator, administrator, parent, or professional who operates a nature-based preschool or education program? Are you thinking about starting a nature-based program? Have you longed to find a professional community of peers who share your passion for nature-based education for young children?
The Nature-Based Preschool National Conference is designed specifically for the nature-based preschool professional community to help support the field through networking, collaboration, and sharing best practices. Let's face it: Nature-based educators have unique questions. How can we keep hikes interesting five months into the school year? What are the best kinds of raingear for infants and toddlers? What is the most effective way to assess learning when you're using an emergent curriculum? What kinds of financial models support new nature-based programs? 
Join us August 19-22 at the beautiful Elachee Nature Science Center and Nature Preschool in Gainesville, GA as we explore these and other questions, and continue to build a professional community of nature-based early childhood educators. A call for proposals, registration information, volunteer opportunities, and more will be available soon. 
Who is this Conference for?
This conference is for educators and administrators who operate--or who want to operate--nature-based preschools, and allows these specialized educators to network, learn, and propel the field forward.
What is a Nature-Based Preschool?
Nature preschools put nature at the heart of the program, are based on high-quality early childhood education and environmental education practices, and work toward dual goals of supporting child development and laying a foundation for environmental literacy.
Where is Gainesville, GA?
Tags: