Bright Ideas
Nature Preschools and Forest Kindergartens are Blooming at New Hampshire Conference
March 5, 2014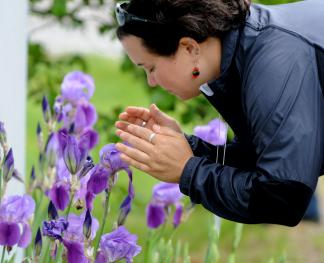 In Bloom: Promising Practices in Nature-Based Early Childhood Education, the third annual Nature Preschool/Forest Kindergarten Conference, will be held May 16-17 at Antioch University New England (AUNE).
Anne Pelo of Seattle, Washington, teacher-educator, program consultant, and author of five books, will give a keynote talk: "The Goodness of Rain: A Year of Natural Exploration with a Young Child." Erin Kenny of Cedarsong Nature School, Vashon Island, Washington, an internationally known leader in the forest kindergarten movement, will also give a keynote presentation, titled "Forest Kindergartens and Nature Pedagogy."
Choose from workshops that include:
How Nature Immersion Benefits the ADHD and Autistic Child

Why We Build Fires: Cultivating Attention, Observation and Tenderness by Teaching with Fire

Yucky and Dangerous: Risk Management in Nature-based Early Childhood Education

Playing with Natural Systems: Designing School Grounds
….and many more. Find out about them all, along with information on the faculty who will be teaching.

Also on the program:
•An evening campfire on May 16, with naturalist Susie Spikol Faber and folk heritage musician Mary Desrosiers. Join us for an evening of frog stories, songs, and myths, around a campfire at the Harris Center for Conservation Education in Harrisville, New Hampshire.
•Enjoy a May festival and plant sale on Saturday, May 17, from 8 a.m. to 12:30 p.m. at Sophia's Hearth Family Center, 700 Court Street, Keene.
Find out more about In Bloom.
AUNE will also hold an In Bloom conference aimed at educators in urban areas, on Tuesday, May 13, in Mattapan, Massachusetts. Find out more about In Bloom in Boston: Best Practices in Urban Nature-Based Early Childhood Education.
About Antioch University New England (AUNE)
Antioch University New England offers highly respected doctoral, master's, and certificate programs in education, environmental studies, management and psychology. Located in Keene, New Hampshire, this unique institution serves approximately one thousand students each year. Our graduates have gone on to be leaders of positive change, working toward a more just and sustainable society. Founded in 1964, Antioch University New England is the oldest of Antioch University's graduate campuses. Learn more at: www.antiochne.edu.
About Antioch University
Inspired by the work of pioneering educator Horace Mann, Antioch University, a private, non-profit, 501(c) 3 institution,  provides learner-centered education to empower students with the knowledge and skills to lead meaningful lives and to advance social, economic, and environmental justice.  With campuses in Keene, New Hampshire, Los Angeles, Santa Barbara, Seattle, and Yellow Springs, Ohio, Antioch University is a bold and enduring source of innovation in higher education. The University is accredited by the Higher Learning Commission of the North Central Association.
Tags: