Bright Ideas
Nature preschools continue impressive growth across US
July 7, 2020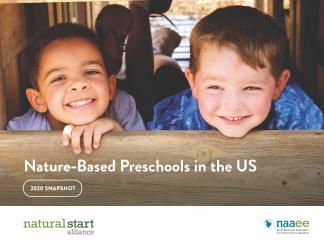 Nature preschools—where children spend a majority of the school day learning outdoors in nature-rich environments—continue to grow in popularity in the United States, according to new research now available in Natural Start's new Nature-Based Preschools in the US: 2020 Snapshot.
The report follows a 2017 publication (link below), which estimated approximately 275 programs in the United States. Three years later, that number has more than doubled to an estimated 585 programs, or a 25-fold increase over the past decade.
The report makes the case for nature in young children's education, pointing to benefits from improved academic performance to increased physical activity to stress relief. As the report demonstrates, interest in this approach to education has been growing steadily over the past decade, but the pandemic could boost interest even further. Christy Merrick, director of the Natural Start Alliance, explains, "As health experts agree that virus transmission is less likely outdoors than indoors, and parents and education leaders are looking for creative solutions to safely return to school, interest in nature-based education could soar."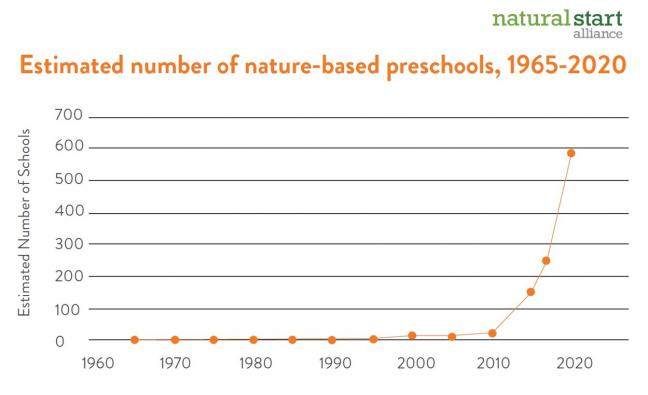 Pointing to these and other benefits, NAAEE recently released
guidance
for elevating environmental education to solve some of the challenges of reopening K-12 schools during the pandemic. Preschools and K-12 schools face many of the same challenges in trying to increase distance between students while promoting healthy interaction between students and between students and teachers. Solutions proposed by NAAEE include using the school grounds for outdoor classroom spaces, engaging community environmental and outdoor education programs as alternative resources for learning, and tapping into the expertise of environmental educators to support teaching and learning, particularly outdoors. Judy Braus, NAAEE's executive director, explains, "Environmental educators, including nature preschool educators, are experts in educating students outdoors safely and effectively. They are an incredible resource in communities as we look for tools and strategies to safely reopen schools."
As the education system in the United States grapples with how to balance children's and teacher's safety with the urgent need for children to return to school, outdoor education is gaining new attention. Nature preschools offer an opportunity to educate young children outside, with more distance and less stress. This 2020 Snapshot demonstrates that this approach to education was increasingly popular before the pandemic, and could be even more popular, and important, now.  
Tags: