Bright Ideas
Need Ideas for Encouraging Nature Play? A New Free Guide Is Available
January 29, 2015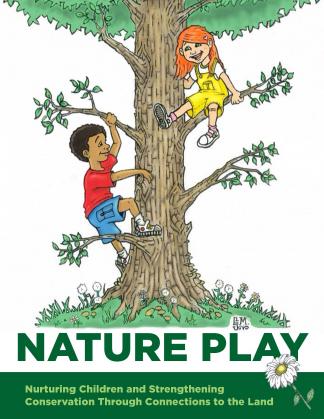 The Pennsylvania Land Trust Association has published a new guide,
Nature Play: Nurturing Children and Strengthening Conservation through Connections to the Land
. Ken Finch—President and founder of Green Hearts Institute for Nature in Childhood, and a Natural Start advisor—is the guide's principal author. The illustrated guide is available for free 
view or download
.
Unstructured, frequent childhood play in informal outdoor settings powerfully boosts the cognitive, creative, physical, social and emotional development of children. It also engenders deep conservation values-more so than any other factor. If we want future generations to carry on the work of conservation, then we need to be paying attention to what is happening in childhood. To make conservation efforts endure, we must emotionally connect children to nature.
Part 1 of this guide explores the essential characteristics of nature play, the benefits nature play provides and the societal barriers to it. Part 2 describes the array of concrete actions that organizations may take to restore nature play to children's lives. This includes the creation of spaces for nature play, which don't have to be expensive ventures, and the various features that can be added or enhanced in a play space to make it more attractive to kids and effective in promoting nature play.
Tags: