Bright Ideas
New Courses Available in Nature-Based Early Childhood Education Program
November 4, 2013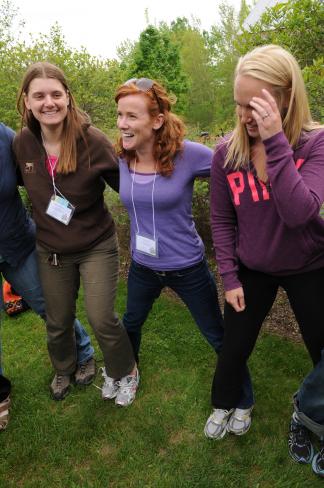 Antioch University New England has released its spring schedule for courses in its Nature-Based Early Childhood Education Program Series. The program is available to matriculated students in Antioch's Elementary Education program, allowing them to earn a Nature-based Early Childhood Concentration within the Elementary Education Certification/Integrated Learning Program. Courses are also available as a continuing education opportunity for teachers and administrators interested in a nature-based education approach. Tuition assistance is available. 
Spring courses include:
EDP 560 Business Planning for Nature Preschools and Forest Kindergartens (2 credits)
January 13-17, 9:00 am – 4:00 pm
Ken Finch
Starting a nature-based early childhood program requires business savvy and financial planning. This course will address the nitty-gritty planning necessary to get a program up and running. We'll focus on the creation of business plans, including: simple market analyses, promotion, site and facility needs, staffing requirements and options, the crucial income and expense projections, fundraising options and basic risk management issues. Participants will draft a three-year budget for their operation, rough out a promotional flyer and/or website, and prepare and practice persuasive verbal descriptions and "sales pitches" for their school. We'll allocate plenty of time to share your own experiences and ideas, and will take a close look at existing models that have proven successful in the U.S.
EDC 648 Early Childhood Ed Pre-K—3rd (2 credits)
Saturday, February 1, 15th, March 8 & Sunday April 6
Deborah Kardane
This course will focus on teaching and learning in the early childhood classroom (Pre-K to 3rd Grade). Throughout the years that children spend in educational settings, their successful learning is dependent not just on instruction, but on personal connections with important adults who support and facilitate their learning. It is through these connections that children develop not only academic skills but also positive learning dispositions and confidence in themselves as learners. Warmth and responsiveness in caregiving creates the conditions within which young children can explore and learn about their world. Good early childhood curriculum does not come out of a box or a teacher-proof manual.
EDP 558 Working with Parents & Community (1 credit)
Saturday February 22 & Sunday, February 23, 9:00 am – 5:00 pm
Susan Weber & Regina Wolf-Fritz
Nature pre-schools and forest kindergartens are different kinds of places and therefore parents and community members need to be educated about the mission and practices of the school. Parents need to be prepared to provide appropriate clothes, do regular tick checks, be prepared for bee stings. And parents need to volunteer in the school and with fundraising. In this course we'll participate in mock parent conferences, write letters to parents to explain nature school programs, and practice working with parents who are upset about their children always coming home wet and dirty.
Tags: