Bright Ideas
New Research in Early Childhood Environmental Education
November 30, 2015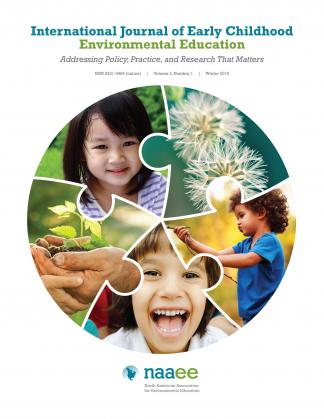 This winter brings the third volume of the International Journal of Early Childhood Environmental Education, which once again delivers research, pedagogy, advocacy, and reflections from contributors around the world. As always, the journal is available for free online, and is now also available in print. Natural Start supporters (that's you!) receive a 50% discount. Just enter discount code 4ACWSY4Y.
This issue begins with a note of reflection from contributing editor Ruth Wilson, who is credited as an instrumental figure in establishing the field of early childhood environmental education (ECEE) in the United States. She invites us all to reflect on what our ultimate puprose is in our work. 
Looking back on how far we've come, she reflects, "I've been involved in ECEE for almost 25 years and sometimes still ask, 'What's it all about?'" She says, "As I see it, ECEE is more than the integration or intersection of early childhood education and environmental education." Dr. Wilson challenges us to reflect on whether whether the ultimate goal of our work can expand beyond the benefits we see for children and for the enviroment to something bigger, something that captures our hopes for the kind of adults we hope children will become, and the kind of society they will build.
The following new research and perspectives appear in this issue:
The green bean has to be longer than your thumb: An observational study of preschoolers' math and science experiences in a garden 
Maureen Vandermaas-Peeler, Elon University, USA Cara McClain, Elon University, USA
Betwixt the Wild, Unknown and the Safe: Play and the Affordances of Nature within an Early Childhood Education and Care Institution in Norway
Gjertrud Stordal, Queen Maud University College of Early Childhood Education, Norway
Gro Follo, Centre for Rural Research, Norway
Ingar Pareliussen, Queen Maud University College of Early Childhood Education, Norway
A Young Child's Perspectives on Outdoor Play: A Case Study from Vancouver, British Columbia
A. Elizabeth Beattie, University of British Columbia, Canada
Children as "Solutionaries": Environmental Education as an Opportunity to Take Action
Elizabeth O. Crawford, University of North Carolina, Wilmington, USA
Nancy Luke, Western Carolina University, USA William Van Pelt, HeartGift, USA
Wild Beginnings: How a San Antonio initiative instills the love of nature in young children
Deepti Kharod, Montessori, The University of Texas at San Antonio, USA
Maria G. Arreguin-Anderson, The University of Texas at San Antonio, USA
Nature and the Outdoor Learning Environment: The Forgotten Resource in Early Childhood Education
Allen Cooper, National Wildlife Federation, USA
Children's Books and Resources Review
Brenda Weiser, Book Editor, University of Houston, Clear Lake, USA
Jill Smith, Book Editor, Central Methodist University, Missouri, USA
Tags: