Bright Ideas
No Child Left Inside Act Introduced with Bipartisan Support
February 11, 2015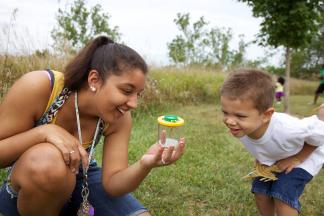 Today, Senators Jack Reed (RI-D) and Mark Kirk (IL-R) and Congressmen John Sarbanes (MD-R) and Mike Fitzpatrick (PA-R) introduced legislation aimed at improving environmental education in our nation's public schools. Supported by the Outdoors Alliance for Kids (OAK), the Natural Start Alliance and the North American Association for Environmental Education (NAAEE), the No Child Left Inside Act would provide grants to school districts, support teacher training and promote the integration of outdoor learning into the regular school curriculum.
The legislation would enhance opportunities for school children and adolescents to learn about, and in, the great outdoors. Environmental education has been shown to increase academic performance across subject areas and has been linked to improvements in critical thinking skills, student motivation, civic engagement and environmental stewardship. Environmental education, particularly when practiced outdoors, can increase the amount of physical activity children and youth engage in during the school day.
"Today's children will be asked to tackle tomorrow's environmental challenges," says Michael Brune, Sierra Club Executive Director. "It's our responsibility to ensure our kids have opportunities to get outdoors and learn about the natural world. The No Child Left Inside Act will provide young people with the foundation they need to succeed and lead in a climate changing world."
"We are hopeful that 2015 is the year that Congress acts to ensure that America's youth have access to high-quality environmental education programs that we know help improve student achievement, connect young people to their communities, and build environmental literacy," says Judy Braus, North American Association for Environmental Education Executive Director. "If we want our students to be competitive in a global economy, they need to be environmentally literate."
"The Children & Nature Network wholeheartedly supports the No Child Left Inside Act, which is a practical solution to combating Nature-Deficit Disorder," says Sarah Milligan-Toffler, Children & Nature Network Executive Director. "We know that educators and parents want more outdoor learning opportunities and this legislation provides the support needed to make that a reality." 
"The outdoor experiences in nature that this bill will support are important for the healthy development of children in areas such as cognitive functioning, resilience, socialization, and concentration," says Linda Rhoads, Executive Director of Alliance for Childhood.
"Children today spend an average of seven hours a day in front of electronic screens," says Kevin Coyle, National Wildlife Federation Vice President for Education & Training. "Hands-on environmental education that gets kids outdoors in nature contributes to healthy lifestyles, has a positive impact on student achievement, and will help inspire the next generation of conservation stewards. National Wildlife Federation commends Senator Reed, Senator Kirk, Congressman Sarbanes, and Congressman Fitzpatrick for introducing legislation that will give every student a basic understanding of the environment."
"By not educating our children on the importance of the environment or exposing them to the wonders of nature through hands-on experience, we jeopardize the future of environmental stewardship as well as advances in environmental science," says Kevin O'Hara, Vice President, National Recreation and Park Association. "Thankfully, many trained and knowledgeable staff from local and state park agencies actively partner with school systems to provide environmental education programs to students and teachers through "field" learning experiences at nature and science centers, and in parks and wildlife refuges. These experiences stimulate the student's learning process and curiosity in a manner that cannot be achieved through classroom teaching alone." 
Tags: