Bright Ideas
Outdoor Experiences Build Confidence and Environmental Stewardship in Girls
October 22, 2014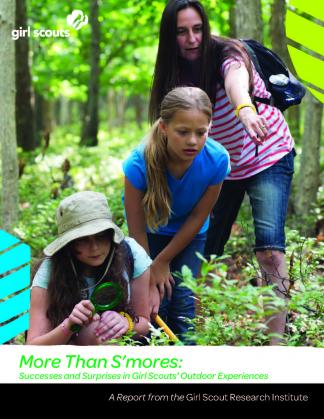 For decades, outdoor activities have been a hallmark of the Girl Scouts experience, even if other pursuits have taken center stage in recent years. In 2012, Girl Scouts decided to look more deeply at the role of outdoor experiences in their programs. A newly released national study came up with some interesting answers to the question: How often and in what ways are girls getting outside in Girl Scouts? But even more enlightening were the girls' responses to how these experiences make a difference in their lives. 
The study,
More Than S'mores: Successes and Surprises in Girl Scouts' Outdoor Experiences
, found that 97% of girls had participated in an outdoor activity with Girl Scouts in the last year and 40% had participated in an outdoor activity at least once a month. Out of all these girls, half of them said they would not have been able to participate in an activity if it had not been for Girl Scouts. 
The regular exposure to outdoor activities was found to be a key factor in girl's leadership and satisfaction, particularly when it comes to taking care of the environment. According to the study, Girl Scouts reported much higher levels of environmental stewardship compared to a national sample of girls. These girls were more than twice as likely to say they take actions to protect the environment, a response that most likely stems from the dedication to environmental service that the Girl Scout organization instills in its participants. The outdoor experiences of Girl Scouts not only increase their environmental stewardship, but also boost their confidence as leaders and as problem solvers. Seventy-two percent of girls said that they improved a skill and 48% said they helped other girls while participating in an outdoor activity. And across the board, girls who participated in monthly outdoor activities were more likely to say that they had been a leader in more activities because of their experiences with Girl Scouts. 
The Girl Scouts study gives us another example of the profound effect that casual and regular interactions with the outdoors can have on kids' behavior and attitude. Getting outside to play or just going for a walk is such a simple way to encourage exploration and creativity, and it makes the biggest difference for those who have the fewest opportunities to do it. To get the full story, read the
full report
or for a more detailed summary, read the
executive summary
. 
Tags: