Bright Ideas
Parents Guide to Nature-Based Early Learning
April 25, 2019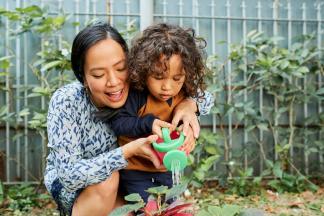 As children's first teachers, parents and other caregivers have an enormous impact on early learning and development. Research shows that early childhood is also a critical time for establishing a positive connection with the natural world. When adults model respect for nature, encourage a sense of wonder and curiosity, and allow time for outdoor play, young children begin to develop a relationship with the natural world that can last a lifetime. Here are some nature-based early learning resources for parents and families: 
Childhood nature play advocate Ken Finch shares strategies for making nature play easy so that families can make it part of every day. Ken outlines the importance of nature play and three key attributes of great nature play: the right kind of place, the right kind of play, and the right kind of re-play.
This article is excerpted from A Parent's Guide to Nature Play: How to Give Your Children More Outdoor Play.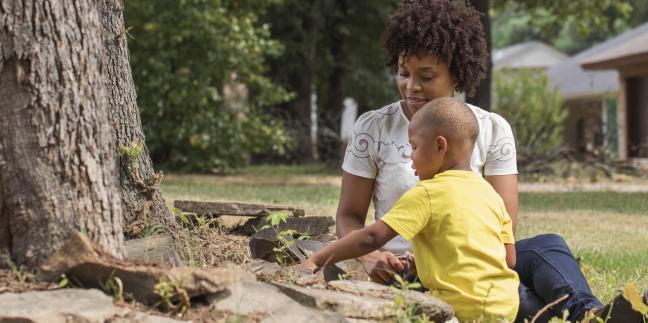 The Family Nature Club model is increasingly popular in the U.S., with organizations like Hike It Baby, Tinkergarten, and Free Forest School encouraging families to gather with friends and community members to get outside and enjoy nature together. The Children and Nature Network uses Family Nature Clubs to break down common barriers to getting families out in nature on a regular basis. Find out how you can create a Family Nature Club in your community and access easy to use resources to get you started.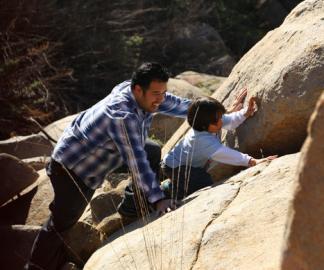 Developed by the National Wildlife Federation and Natural Learning Initiative, this guide is an tool for creating enticing outdoor play spaces in your backyard, patio, or balcony. The guide contains easy-to-use instructions for creating features like edible pathways, fairy villages, areas for water or sand play, backyard habitat, and much more.
Nature experiences can play a central role in children's moral development. Anne Grall Reichel shares how adults can model caring practices and share their own sense of wonder and responsibility for the natural world with the children in their care.
What happens when you want to offer early childhood nature programming but don't have the space, personnel, or other resources to run a full-scale nature preschool? One answer may lie in short-form programming such as nature playdates. Jessica Grill offers tips on how to organize a playdate in your community, from choosing a theme to spreading the word to families and friends.
Patty Born Selly walks us through the wonderful world of open-ended toys, or "loose parts," and the value these types of materials bring to a child's play. Nature is full of loose parts that parents and teachers can collect for free, and many people believe that loose parts from nature not only support children's play and development, but can also help foster connections with the natural world.