Bright Ideas
Pearlstone Center to Host Environmental Education Conference for Jewish Educators
April 16, 2014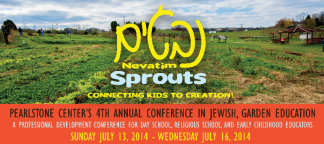 Pearlstone's Nevatim Teacher Training Conference in Jewish Environmental Education is a unique and dynamic event, providing professional development and training in Jewish garden and environmental education for Jewish educators at day schools, congregational schools, and early childhood centers from around the country.  Participants will learn the basics of educational garden design; share lesson plans and Jewish, environmental curricula; tour the state's premier outdoor classroom; harvest and prepare farm-to-table meals; and walk away with the tools, resources, and professional network needed to develop Jewish, environmental programming at your school.
Join us July 13th-16th at Pearlstone Center in Reisterstown, MD, for an inspiring and captivating conference. Nevatim-Sprouts learning sessions will include: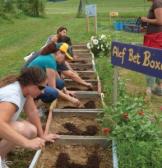 Garden Design
Learn how to build, design, and maintain a Jewish, educational garden at your school or synagogue. From technical gardening tips to outreach strategies, we'll cover the basics of how to get your garden started. For experienced gardeners and existing gardens, learn how to maximize the potential of your garden. Learn more about soil, garden planning, succession planting, and more from Pearlstone's farm director, Josh Rosenstein.
Outdoor Classrooms
We'll explore the state's premier outdoor classrooms and learn from experienced nature educators how to transform your landscape into a dynamic setting for outdoor learning.
Curricular Development
Through interactive lesson-plan modeling and group brainstorm, participants will learn and create innovative Jewish environmental curriculum. Learn how your garden can be an innovative tool to teach about the Jewish calendar, social justice, stewardship and responsibility, healthy eating and cooking, Hebrew language, diversity, and much more.  Let us know what you'd like to teach!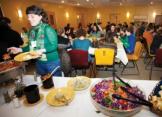 Farm to Table
Harvest vegetables from our 5-acre organic farm, milk the goats and make cheese, collect eggs from the chicken coop, and prepare a farm-fresh dinner for all the participants to enjoy. This empowering component will surely satisfy your palette and soul.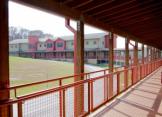 All-Inclusive Retreat
Our comfortable lodging, warm and talented staff, and dynamic retreat center will provide the perfect setting for 4 days of immersive learning, community building, and professional development. Evening entertainment and networking promises to be both fun and rewarding!
Continuing education credits (CEUs) from the Maryland Department of Education will be available.
For more information, please contact Neely Snyder:
410-429-4400 x246
Tags: