Bright Ideas
Recycled Holiday Craft Ideas from our Pinterest Board
December 12, 2013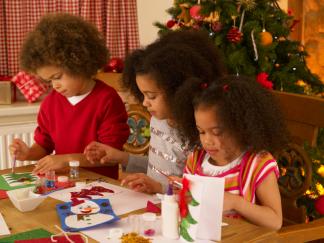 The holiday season seems to bring out the inner crafter in many of us. And children love to help decorate for the holidays with their own creations. 
So we've created a
Pinterest board
to celebrate all the ways to create fun holiday-themed crafts with the Earth in mind. Our hand-picked selections feature crafts that are made with natural or recycled materials, so they won't strain the budget, and they're gentle on the environment, too. Consider it your gift to Mother Nature!
Thanks to Red Ted Art for this clever idea for using twigs and toilet paper rolls to create a fun holiday display. According to the blogger who developed this craft, it was made with lots of help from her three-year-old.
Used cans are classic recycled craft materials, and this is a great use for them for the holidays. Little hands can help with painting the cans and collecting twigs for arms. Grown ups can glue the snowman "accessories" on if needed.
Egg cartons are another staple for recycled crafts, and this is a clever use of them. Pull apart the separate egg compartments to create layers of a tree. And as these bloggers point out, all the painting, glueing, and skewering in this craft are ideal for building fine motor skills.
Our friends at A Bird and Bean came up with this clever craft that captures holiday magic in a bottle. These aroma jars are made from cuttings of Christmas trees and wild winter plants like evergreens, berries, nuts and more. Your scents will depend on what you find as you explore, but no matter what, young children will love using their senses to enjoy the sights and smells of the holidays.
Put your used paper through a shredder, and you have the makings of a fluffy, 3-D snowman. This simple craft is easy for young children to do, and helps reinforce ideas around reusing materials instead of sending them to the trash.
For more environmentally friendly holiday crafts, and other boards on nature crafts, books and other resources, professional development opportunities, and more, visit us on
Pinterest
. 
Tags: