Bright Ideas
Support Childplay Institute's Crowdfunding Campaign
January 17, 2014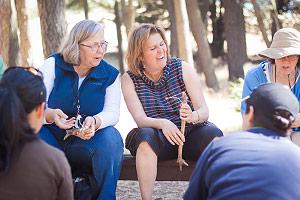 The Childplay Institute has launched a crowdfunding campaign to raise $4,000 to provide 10 full scholarships to our 2014 Children Learning with Nature (CLN) Training Institute. The CLN Training Institute focuses on the benefits of outdoor play to the development of young children. This training is relevant whether in dense urban centers, suburban spaces, or wide-open rural areas. We have seen some of the greatest effects of this approach in tight settings in very large cities where children are starved for a relationship with nature.
The event will be led by internationally recognized educators and trainers such as Claire Warden (Scotland), Anders Farstad (Norway), Jon Young (California), Erin Kenny (Washington), Sharon Danks (California), Jan White (England), and The Childplay Institute's Paul Roberts. We have already had dozens of applicants register their interest in receiving a scholarship to the 2014 Children Learning with Nature Training Institute, and we want to know: Do you know of a deserving teachers that would benefit from this event, but would not be able to attend without financial assistance?
Providing this opportunity to others will spread the understanding of the importance of outdoor education and diversify our attendance. Together with your help, we can raise $4,000 to provide these scholarships, which will cover all workshops and sessions, meals, and transportation during the Institute. We have some excellent rewards to offer our donors as well, including signed and personalized copies of Claire Warden's most recent publications.
We are so excited to run this campaign but need your help to provide this opportunity to deserving childcare professionals, environmental educators, teachers, and students both in North America and abroad. We know that you value education above all else and see the value in the work we are doing at the Children Learning with Nature Training Institute. Please generously help us with our campaign by donating and helping to spread the word!
Tags: