Bright Ideas
Vote for the Worst Toy of the Year
December 6, 2013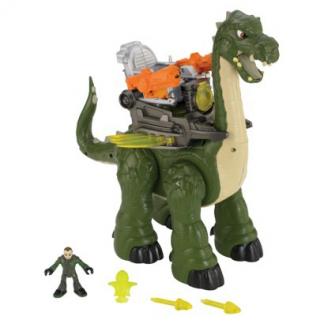 Each year, the Toy Industry Association gathers to present its TOTY (Toy Of The Year) Awards. In honor of the industry that has led the way in commercializing childhood, the Campaign for a Commercial-Free Childhood (CCFC) will present its TOADY (Toys Oppressive And Destructive to Young Children) Award for the worst toy of the year. From thousands of toys that promote precocious sexuality to children and push branded and screen-based entertainment at the expense of children's play, CCFC has selected five exceptional finalists. Who will win the dreaded TOADY? It's up to you. Vote at the CCFC website by Sunday, December 8!

Monopoly Empire by Hasbro
Price: $19.99
Recommended Age: 8+
For
 more than 60 years, Monopoly was almost the perfect board game. But one thing was missing: ads! Fortunately, the good people at Hasbro rectified that with Monopoly Empire, where "Every space on the board is an iconic brand." Goodbye to the boring old hat and shoe. Hello to "cool brand tokens" like McDonald's fries or an xBox controller. Instead of buying properties, players race around the board collecting brands—Boardwalk and Park Place are now Coca-Cola and Samsung—and build towers out of billboards. Is there a better way to teach kids that whoever owns the most brands, wins? 
PLAY-DOH Create ABCs App by PlayDate Digital Inc.
Price: $1.99
Recommended Age: 4+
Remove the unseemly mess from Play Doh . . . and all the icky creativity that comes along with it. No longer will kids waste precious moments imagining what to make. The PLAY-DOH Create ABC's app chooses it for them! And every "creation" is exactly the same—perfect! If your children even try to slide a foot or a tail in the wrong place, the app automatically sets it right. No more awkward guesses about what those Play Doh creations are supposed to be—if your little one even bothers to look up from the screen to show you.
VIP Upgrade Membership by The Real Tooth Fairies
Price: $58.90/year
Recommended Age: 5-10+
If your jaded little princess is bored with traditional visits from the Tooth Fairy, The Real Tooth Fairies VIP Upgrade Membership makes the perfect gift. For only $59.90/year, you can transform a unique childhood icon into a generic fashion doll website and brand, complete with stifling gender stereotypes. In Real Fairyland, girls can use their "sparkle dollars" to give their Tooth Fairy a makeover, party in their "party room" and mock the buck-toothed, glasses-wearing fairy-wannabe Stepella. And with the VIP Upgrade, girls get a closet that "holds 200 fairy fashions instead of just 25!" After all, no self-respecting Tooth Fairy wears the same outfit twice.
Imaginext Mega Apatosaurus by Fisher Price
Price: $39.99
Recommended Age: 3-8
Finally, a way to get kids excited about dinosaurs—by loading them up with heavy artillery! The Fisher-Price Imaginext Mega Apatosaurus is the only toy dinosaur complete with armor and two firing cannons on its back. Battery powered, it moves and roars and shoots without kids having to move a muscle—or use their imaginations. If only the real dinos had been packing heat, maybe they wouldn't have gone extinct!
iPotty by CTA Digital
Price: $34.99
Recommended Age: 18 months+
Would your little one rather lie around in a poopy diaper than miss a second of his favorite show? Then you need the CTA Digital 2-in-1 iPotty with Activity Seat for iPad. No more struggles to get little Bobby or Susie to use the potty—with all the mesmerizing apps and videos, they'll want to stay on there all day! Start them learning early that there's a screen for every occasion.
Tags: