Bright Ideas
Webinar: Making the Case for Affirming Children's Voices in Early Childhood Nature-Based Initiatives
March 12, 2019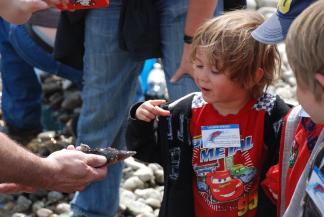 Young children have the right to a say in matters of relevance to them. And, research is showing that they are capable of exercising this right, given developmentally appropriate opportunities.
In collaboration with the Children and Nature Network, we will offer valuable evidence and practice-based information to make the case for affirming the voices, experiences and cultural ways of knowing of our youngest participants in nature-based education.
Featured Speakers
Cathy Jordan

, Consulting Research Director, Children & Nature Network

Carie Green

, Associate Professor in the School of Education, Graduate Programs, University of Alaska Fairbanks

Natalie Lucas,

Manager and Educator, Wee Ones Daycare & Preschool and Valhalla Children's Center in British Columbia
View the recording of the webinar here: https://www.childrenandnature.org/webinar
Access research and resources on affirming children's voices, along with a transcript of the Q&A portion of the webinar here: https://www.childrenandnature.org/wp-content/uploads/CNN-Affirming-Childrens-Voices-Webinar-Resource-Sheet.pdf
Interested in reading more about what affirming children's voices looks like in practice? In our April 2019 Feature Story, Natalie Lucas recounts a real-world example of recognizing children's agency through the Salmon Speaks project.