Bright Ideas
Webinar Recap: Washington Outdoor Preschool Pilot
December 4, 2019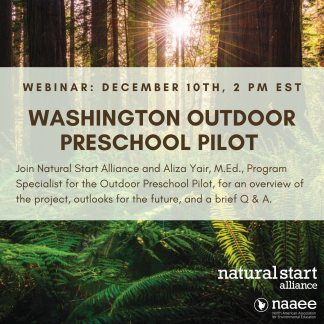 The state of Washington took a significant step forward in October 2019 when it became the first state in the US to license preschools that operate entirely outdoors. Authorized by 2017 legislation, the program includes a limited number of pilot programs that will test licensing standards that have been adapted to better fit outdoor early childhood education programs. 
View this webinar for background on the Outdoor Preschool Pilot Program, an update on the current state of the pilot, and outlooks for the future. 
Featured Speaker
Aliza Yair, M.Ed., is the Program Specialist for the Outdoor Preschool Pilot Program and led the development of the pilot outdoor licensing standards for the Washington State Department of Children, Youth, and Families.
View resources from the webinar: