Bright Ideas
What Young Learners Really Need to Learn
November 5, 2013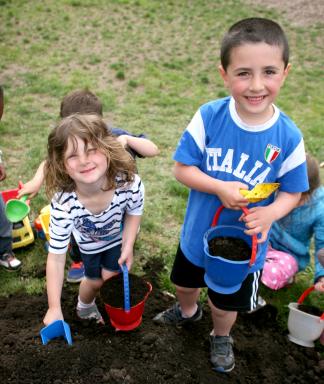 Parents of young children have probably heard from their child's preschool or kindergarten teacher that it's important for their young child to begin academic learning early, because that's what's expected in the coming years. Teachers, in turn, are evaluated on their students' performance on tests that measure progress in reading and math, and understandably push their students to prepare for the tests.
But is this the kind of learning that young children really need? A growing number of education experts are speaking out, arguing that the best way to prepare for future academic learning is not with early academic learning. Instead, children need developmentally appropriate, play-based activities that let them explore, create, and develop a love of learning that will give them a much better foundation for the academic learning that's to come. And, further, they argue that much of the academic learning that we prepare students for is not a very good preparation for life, anyway. In real life, problems are not solved by doing worksheets. They're solved by people working together to find creative solutions, testing and retesting ideas to find out what works. This, they argue, should be the aim of education, and our educational system has gotten off track.
With the current focus on standards and academic achievement, is learning and testing coming too early? Curriculum and assessment should be based on the best knowledge of theory and research about how children develop and learn, with attention given to individual children's needs and interests within a group and in relation to program goals. In this episode, we discuss the importance of early childhood education and the specific social, cognitive, and emotional needs these learners have that are different from those of older learners.
The podcast includes the perspectives of:
Thomas Armstrong, an award-winning author with more than 1 million copies of his books in print on issues related to learning and human development, including the 2012 ASCD book, Neurodiversity in the Classroom: Strength-Based Strategies to Help Students with Special Needs Achieve Success in School and Life.
Laura Bornfreund, senior policy analyst for the New America Foundation's Early Education Initiative who examines early education studies and policies and researches and writes original policy papers.
Walter McKenzie, a director of Constituent Services for ASCD who served 25 years in public education as a classroom teacher, instructional technology coordinator, director of technology, and assistant superintendent for information services.
Jennifer Orr, a 1st-grade teacher who received the International Society for Technology in Education's Kay L. Bitter Vision Award and is also an ASCD Emerging Leader and member of its 2013 class.
Wendy Ostroff, a cognitive psychology, child development, and metacognition expert and author of the 2012 ASCD book, Understanding How Young Children Learn: Bringing the Science of Child Development to the Classroom. 
To listen to this free podcast, visit
The Whole Child's podcast page
, and let us know what you think about this approach to education in the comments.
Tags: