After twenty minutes or so we reached a clearing. The day was bright and warm, the first like it of the spring. Laughter, shrieks, and scuffles created the soundtrack as my students moved into a circle on the grass. Everyone settled in over the next few minutes, sitting cross legged with their hands in their laps. I rang the chime and we closed our eyes.
My students were familiar with this activity, the chime signaling the beginning of our daily meditation. In the moments that followed, I listened to breathing, and some squirming. But mostly what I heard was the rustle of leaves in the trees and the sounds of a few distant birds. Three minutes later it was over, but my group of 3-5 year olds had found the space and discipline to sit and just be.
Teaching Mindfulness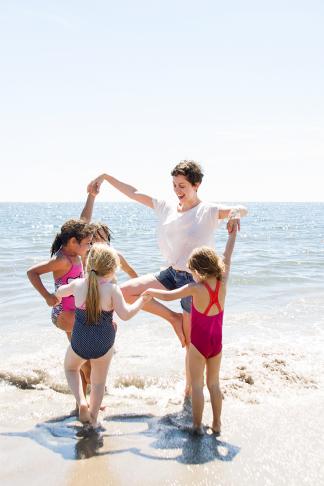 For the last fifteen years, I've taught yoga and mindfulness to children. People's eyes widen when I explain my work and ask if kids as young as two years old sit like statues after bending their bodies into pretzels and balancing on their hands. We think of yoga and meditation as still and quiet, but for kids this is just a component of what mindfulness practices look like. Kids learn to be aware through games, while hiking, making artwork with natural materials, and, of course, by practicing stillness again and again.
I haven't found an environment more conducive to teaching these techniques than the great outdoors. Take children to the beach, up a mountain, or into the woods and they start to slow down, listen, and observe. Just last week I walked a trail with Nico, an almost-three-year-old in my preschool program, and I was reminded how quickly kids tune in when they are given regular opportunities to practice. We listened to the sound of water rushing down a dam, collected pieces of bark covered with moss, and laid on our backs watching hawks circle overhead.
All of these activities fall into the category of mindful meditation. They require focus, concentration, discipline, and openness. Our minds empty and we are actually in the moment. When we learn to do this by practicing in little doses over time, we have the chance to access this state of being when life becomes stressful and overwhelming. I believe that these are the tools children need to be successful and balanced throughout life.
Getting Started
Teaching yoga and mindfulness requires practice and modeling. Teachers must invest in these techniques personally to make a lasting, real impact on students. This doesn't mean renouncing all worldly possessions and moving to India. But it does mean making a commitment to develop mindfulness practices of your own. Carve out time to sit for 5 minutes in the morning, take a meditative walk a few afternoons a week, or show up at a yoga class on Saturday.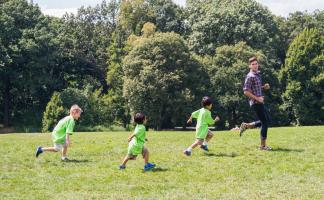 For preschool-age students, mediation and yoga activities should be simple and accessible. Repetition is key and allowing children to be children—noisy, messy, and squirmy—is okay. 'Getting it right' or 'meeting our goals' isn't part of this time. Playfulness, laughter, and emergent themes give depth to any mindfulness curriculum. 
As with any teaching practice, follow your passion. Bring nature experiences and mindfulness activities into your repertoire in ways that feel meaningful to you. Think about using all the senses: What sounds, smells, tastes, and environments make you feel most present and calm? Share these with your students and allow their own emergent interests help shape your classroom practices. Your mindful activities might happen by composting in your classroom, collaging with bark or sand, or by sinking your hands into a sensory table full of dirt. 
Last week as Nico and I walked the long road back to our homestead school, we were both tired. It was late in the day and the sun had begun to set. Our hike left us quiet and suddenly we heard the rush of the creek passing over a dam. We'd listened to the same sound earlier as we watched searching for a duck or two. The sound of the dam made his ears perk and his eyes sparkle. "The water!" He said. "I hear the dam." 
Techniques You Can Try
The following are some simple techniques you might try as you develop your own yoga and mindfulness practices with children:
Chime Meditation
Gather your students in a seated circle. Show them the chime and give each student a chance to ring it once. When the chime returns to you explain that you will ring the chime and everyone's job is to listen. When the chime stops, children can raise a hand in the air. Practice first with eyes open. After multiple practices students can close their eyes. I love this activity to open a morning, or an activity, or anytime children need to center themselves.
Storytime Yoga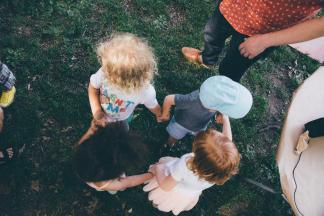 Learn simple yoga poses on your own. Many poses are named for animals or parts of nature. Then find a children's book about animals, plants, or the seasons. As you read the story out loud to your class, pause to practice the poses. Simple instructions and a brief demo is all that's needed to get children connected to poses that have meaning. One of my favorites to start with is 'down dog.' Bring deeper meaning to this activity by practicing in a natural park or on the beach and connecting your story and poses to the environment.
Walking Meditation
Inside or out, bring your students together in a circle. Explain that the circle is our own little world and we are going to work by staying inside of it. For younger children, using rocks, wood, tape, or cones to create boundaries can be helpful. Using music, a drum, or just the sound of your voice instruct children to walk slowly. Ask them to keep their bodies in their own space and not touch others while walking. Work to make this a silent listening activity to tune into the music or sounds of nature all around. Vary the pace or add stops like a freeze dance game for interest. As your students get more familiar with activity, work toward practicing in silence.
Mandala Making
Bring natural materials such as shells, beans, leaves, petals, or acorns to class. Be mindful to select materials that are safe for your age group and not poisonous. Show your students examples of mandalas. Ask for their observations and point out shapes, symmetry, and repetition. Give each student a square surface such as a piece of cardboard. Allow them to select materials of their choice and make sure you have ample amounts of each option. Give the students 5-15 minutes to work on creating the mandalas. Work toward silence during the activity. Give a chance to children to share and talk about their work. When finished, practice a collective clean up. Part of the mandala-making practice is sweeping it away, this teaches children to learn to let go.
Resources
The following are resources I often recommend for parents or educators getting started with mindfulness and yoga with children:
About the Author
Back in 2005 while teaching yoga and dance in public and independent schools, Lauren became interested in why there was such disparity between successful and happy learning environments and those that struggled. Through inquiry and observation, she developed the
Bija
approach which strives to create a fulfilling and engaging educational experience that's grounded both in the real world and with an eye towards the future. 
Her personal passions for food, art, sustainable living, social justice, and connection are interwoven in the daily experience at Bija. After ten years and many iterations, Bija has found its own voice in the world of progressive early childhood education.
Lauren has danced with internationally acclaimed ballet companies including San Francisco Ballet and New York City Ballet and holds a BA from New School University. She is a 200-Hour Registered Yoga Teacher and licensed as an Ayurvedic Therapist from the Ayurvedic Hospital in Coimbatore, India. Lauren is currently completing her Masters in Early Childhood Education at Bank Street College.