Resources
Learn and Play the Green Way: Fun Activities with Reusable Materials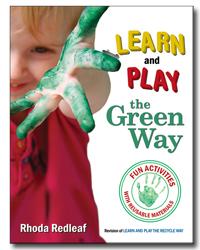 Resource Category:
Curriculum/Resource Guides

Don't throw it away—use it for play! Turn items headed for the trash into fun, educational, and safe toys and activities for young children. Find one hundred creative and clever ideas repurposing common household objects—including shoeboxes, fabric scraps, plastic lids, and buttons—into entertaining playthings. They benefit children's early learning by promoting sensory perception and development in physical; social and emotional; cognitive; and language and communication areas. 

Organized by age group, Learn and Play the Green Way has sections for infants, toddlers, preschoolers, and schoolagers. Activities include:
A description of the ways children of different ages might use the toy
Suggestions for extending the learning
A list of materials needed and step-by-step instructions
A green idea for additional ways to be eco-friendly

Age Focus: 1-8. Softbound, 224 pgs.